Information for Steelman Properties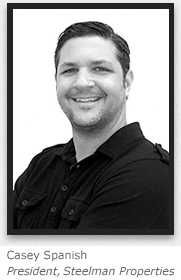 Casey started in the marketing/sales arena with Steelman Partners in 2005 where he oversaw strategic business development and public relations needs. His efforts landed exposure on a global level, including features in Forbes Magazine, the Wall Street Journal, and the CNBC cable network. Additional recognition came when Steelman Partners founder, Paul Steelman, discussed casino architecture in the "behind the scenes" segment of the DVD for the 2007 Oceans 13 film.
In 2007, Casey's focus shifted to the President of Steelman Properties where the company is highly active in various real estate assets. Casey is highly involved in the purchasing, construction, management, and leasing of these properties with the foresight for organizational success. A graduate of the University of Kansas with a degree in Communications and his Masters of Business Administration in 2007, Casey also played on a baseball scholarship at Kansas and was drafted by the Atlanta Braves in 2003.
Leasing Information
Casey Spanish (Steelman Properties)
p: (702) 873-0221
f: (702) 367-3565
c: (702) 596-3633
Karen Barnhart
p: (702) 835-0482
f: (702) 367-3565
Letty Venegas (Rainbow Office Only)
p: (702) 876-9329