Information for Steelman Properties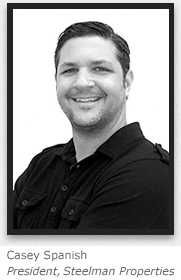 Casey Spanish serves as President of Steelman Properties. Casey's background in the development and marketing arenas coupled with his passion, ability and expertise in various avenues of business, real estate and financing will prove to be vital assets to Steelman Properties and the future success of our projects.

In 2005, Casey started in the marketing and business development arena with Steelman Partners, an international architectural firm based in Las Vegas, NV, that specializes in the multi-disciplinary facets of entertainment architecture. In his role he oversaw global business development opportunities and the organizations' marketing efforts which led to exposure of Steelman Partners in various outlets such as Forbes Magazine, CNBC, Oceans 13, and the Wall Street Journal, to name a few.

In 2007, Casey's role ascended into various real estate, development and business ventures including acquiring, holding, developing and operating real estate assets. He is highly involved in the day-to-day negotiation, purchasing, construction, renovation, management, financing, leasing and selling of these properties. Along with running Steelman Properties on a daily basis, he also leads as President of Pacific Casino & Entertainment Group (PCEG) and Integrated Resort Development.

Steelman Properties works closely with Owners / Developers and other financial institutions to make sure the complexities of projects can be completed and profitable. The multitude of real estate, development and financing activities Casey is involved in has created a vast knowledge over a multitude of industries that will be instrumental to Steelman Properties and the projects they work on.

Casey holds a Master's Degree in Business Administration, a Bachelor's Degree in Communications via the University of Kansas and is a licensed real estate agent in Nevada. Casey played on a baseball scholarship at Kansas where he was a two time captain and was drafted by the Atlanta Braves in 2003 (12th round). 
Leasing Information
Casey Spanish (Steelman Properties)
p: (702) 873-0221
f: (702) 367-3565